Starfrost Pekingese
We at Starfrost Pekingese welcome you to our site. This site is intended to show some of the wonderful Pekingese we have known, bred or owned since the mid 70's. We specialize in whites, however have bred and shown all colors including blacks and parti-colors. We have met some lifetime friends in this beautiful breed, from all over the world! We are located in the beautiful upstate of South Carolina.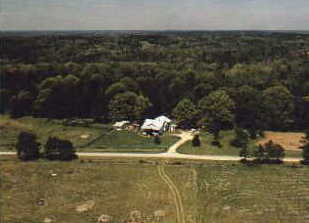 Starfrost Farm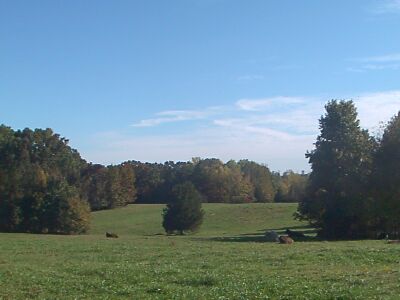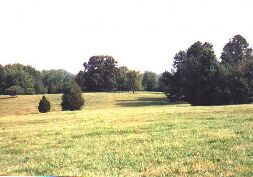 ---
We now welcome to the USA
Sushima White Cider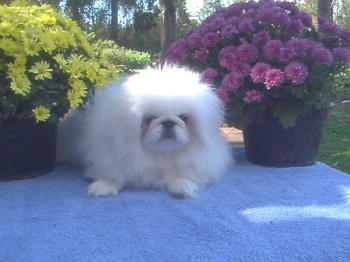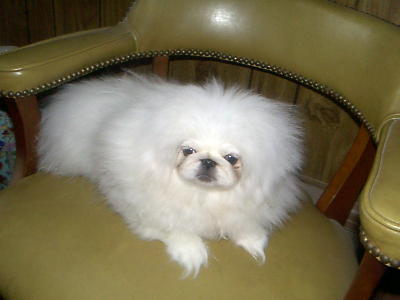 son of Eng.Ch.Singlewell Harelquin
---
Sushima Snow Storm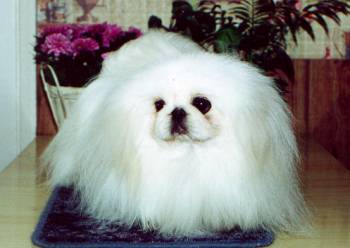 We welcome the newest addition to our Pekingese family "Bobs". A lovely white outcross boy from the Sushima Kennel of England. We hope for good results in introducing this beauty into our white line. Thanks so much to the Grants for parting with him and to Shelia (Alambra) ,Gene(CooDeeFoo) & Bill(Skydogs) for getting him to me in the USA safe and sound!!!!

Bobs in the USA!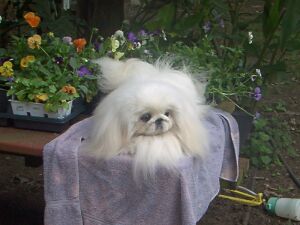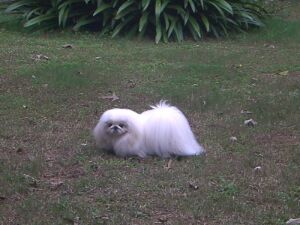 Some of Bobs first Starfrost litters.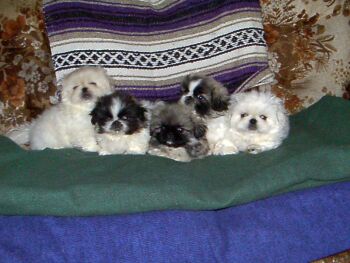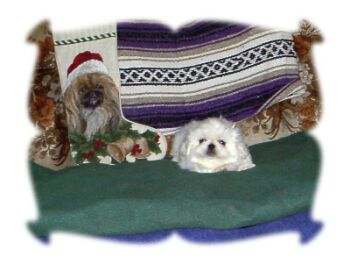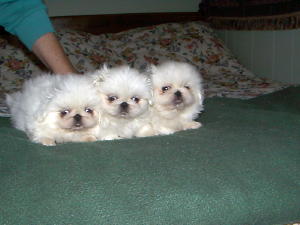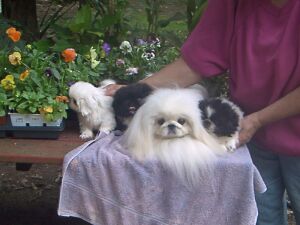 ---

All pet/companion puppies are sold with limited AKC registration........please state exactly what you are looking for when inquiring about a Starfrost puppy.
---
Please visit our other site for more white Pekingese, click the link below...that site is updated often:)

---
U.CH.STARFROST HARLEQUIN ROMANCE


(Sushima Snow Storm x Starfrost Dancin Dolly)
"Harlan" finished his UKC title quickly with many Best of Breed wins and Group placements,including a

Group I, he is ranked number 1 Pekingese in the UKC thru Nov.04............with very limited showing.
---
U.Ch.Starfrost Carolina Snowstorm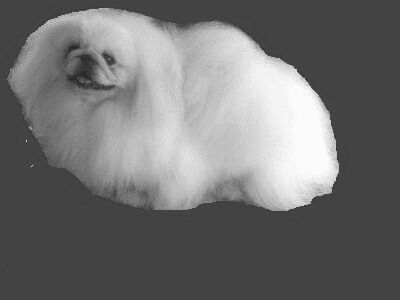 A lovely son of Bobs.
---
Starfrost Ice Cool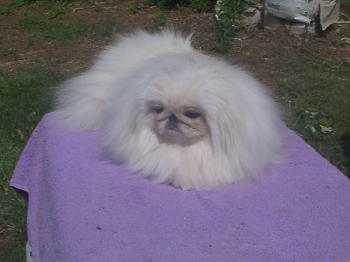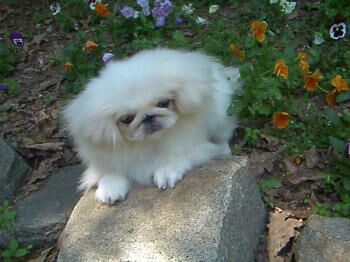 A lovely Bobs son.
CrackerJack is now in Japan with his new owners.
---
Ch. Starfrost Hot Summer Night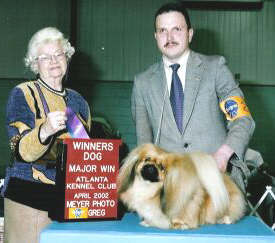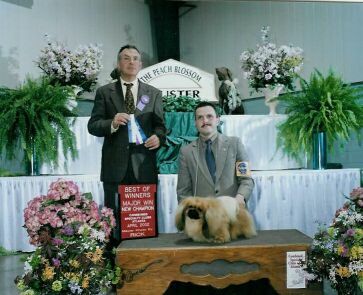 He is sired by Ch. CooDeeFoo Summer Solstice ex Starfrost Enchanting Eve.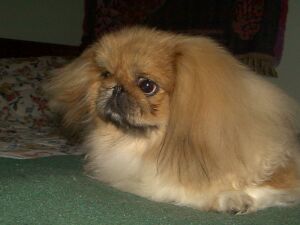 Starfrost Summer Sunset
Another lovely red son of Ch.CooDeeFoo Summer Solstice.
---

Starfrost Black Jack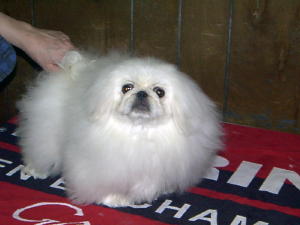 Starfrost White Oleander
---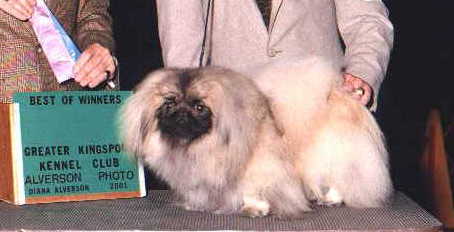 Ch. Starfrost Wild Venture
Vincent pictured finishing his Championship with another 4 point major and a Best of Breed over Specials!!!! Many, many Thanks to co-breeder/owner-handler Gene Hinson COODEEFOO for such a wonderful job with this boy....
---
Click below for newly added pictures! Use back button to return.
Please sign our guest book before you leave and be patient site has many photo's!!!
For more pics click below:
Use your back button to return to this page.
---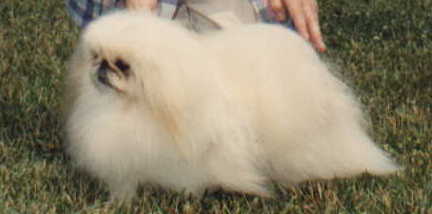 Ch. Starfrost Legacy To Limelight
---

Can. Ch. Fourwind Casper of Starfrost
---

Starfrost Parti Dragonella
---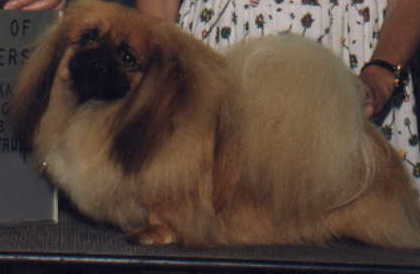 Ch. CooDeeFoo Summer Solstice
---

Ch. Prima Sammy Sioux Black Jack
---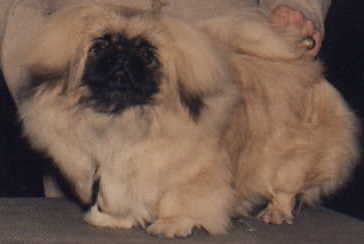 CooDeeFoo Starfrost Melody (pointed)
---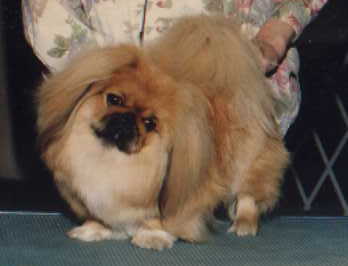 Ch. Starfrost's Wily Waciana
Dam of 4 American Champions!!!!
---

Starfrost Sweet Victoria
---
Starfrost Southern Victory
Pointed, puppy Group placement.
---

Ch. Starfrost Wild Venture
This lovely boy finished his title with two 4-point major wins with a BOB over Specials!!!!
Wonderfully presented by his co-breeder/co-owner Gene Hinson.
---
Starfrost Handsome Fella


He is now enjoying life at his new home in Canada.
---
Puppies are occasionally available in white or colors. Check for any current puppies or expected litters. Males are not at public stud.
We hope you have enjoyed your brief visit to Starfrost. We hope you come back soon as this site will be continuously updated and added to. Thanks.
---
Contact info:
Starfrost Pekingese
322 Starfrost Rd.
Laurens, South Carolina 29360 USA
Telephone: 864-682-2493
Fax: 864-682-7690
---
Iris 2001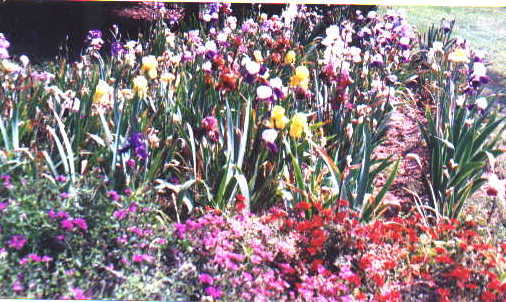 My other passion here at Starfrost.....my beautiful Iris!!!!!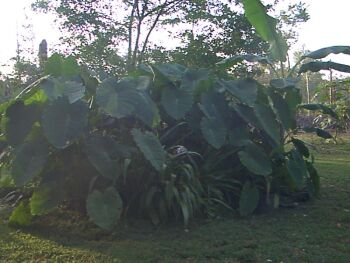 Backyard 2003.